27" Samsung 7.5 Cu. Ft. Dryer With Bespoke Design And Smart Dial - DVE46BB6700VAC
27" Samsung 7.5 Cu. Ft. Dryer With Bespoke Design And Smart Dial - DVE46BB6700DAC
27" Samsung 7.5 Cu. Ft. Dryer With Bespoke Design And Smart Dial - DVE46BB6700VAC
Price
$1,649.99
Savings
$454.99
Our Price

$

1,195.00

CAD
27" Samsung 7.5 Cu. Ft. Dryer With Bespoke Design And Smart Dial - DVE46BB6700VAC
DVE46BB6700VAC
| | |
| --- | --- |
| Price | $1,649.99 |
| Savings | $454.99 |
| Our Price | $1,195.00 CAD |
| | |
| --- | --- |
| Price | $1,649.99 |
| Savings | $454.99 |
| Our Price | $1,195.00 CAD |
Laundry reimagined with a clean, flat-panel design for a washer so beautiful, you'll want to show it off.
A shallower depth allows for easy closet installation without sacrificing capacity.
Dry a full load in 30 minutes with SuperSpeed Dry.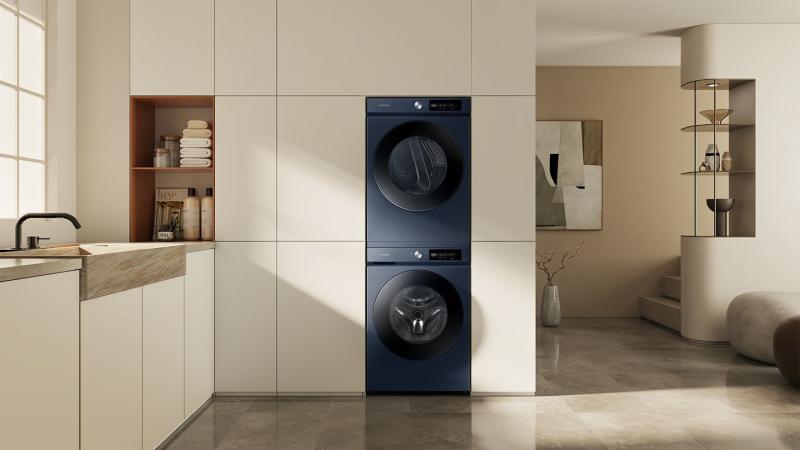 Seamlessly stylish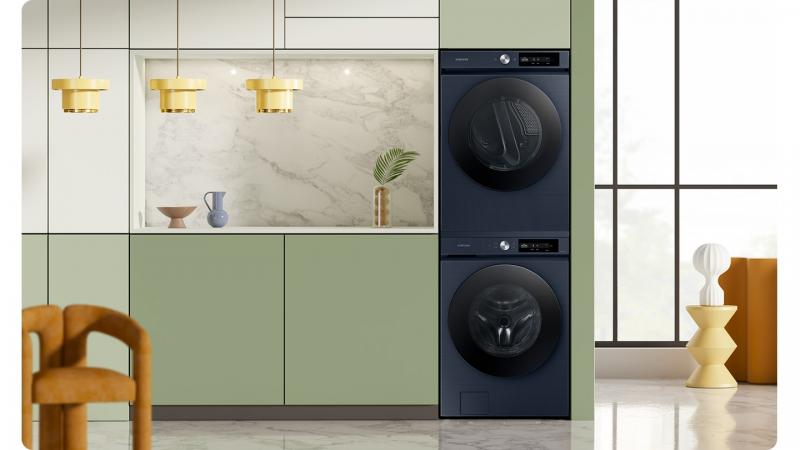 Space-saving design
Fits in laundry closets
Great for any laundry space, this washer has a shallow depth for easy closet installation,* without sacrificing capacity.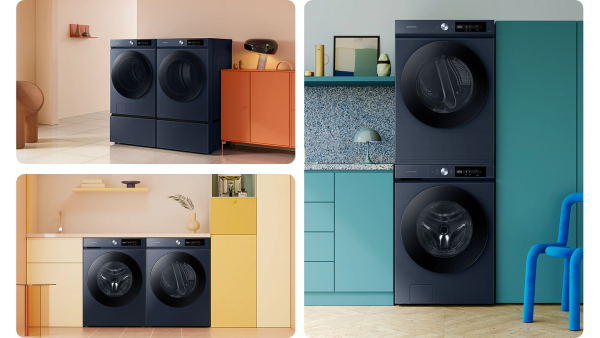 Laundry design reimagined
BESPOKE Design
Laundry reimagined with a clean,flat-panel design for a washer so beautiful,you'll want to show it off.Have the flexibility to install your washer and dryer either side by side or stack it with the new Stacking kit* to complete the seamless look.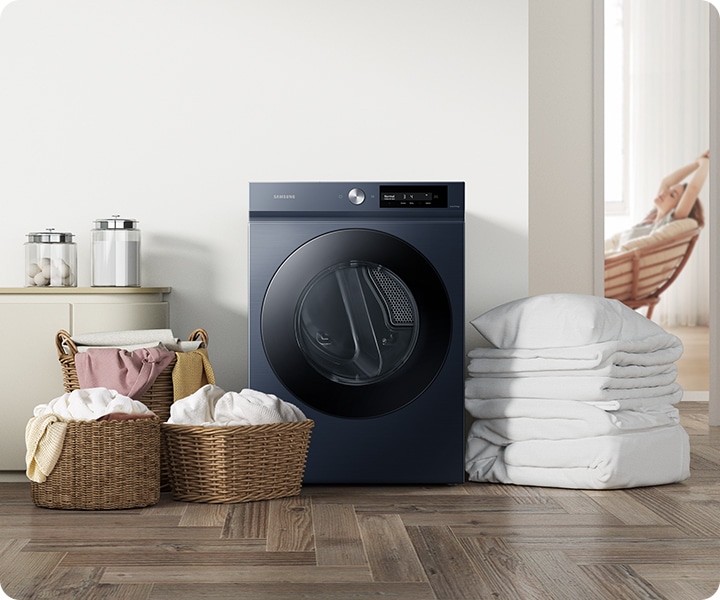 Dry more at once
Large Capacity (7.5 cu. ft.)
Dry many more laundry items at once – saving time and effort. It has a large capacity of 7.5 cubic feet, so you can fit lots of clothes into a single load, including big items like a king-sized comforter. It means you need to dry fewer loads and can enjoy more time for yourself.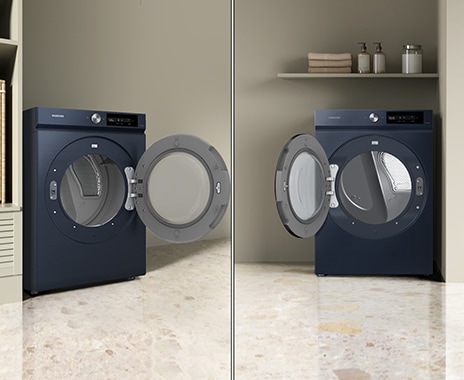 Reversible Door
Choose the direction the door opens to suit your laundry room layout and ensure maximum convenience. You can change which side the reversible door opens, so it fits the location, what is around it and how you do things. And walls won't get in the way, so you can install a dryer almost anywhere!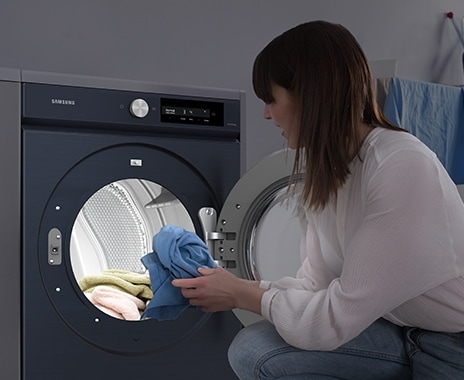 Drum Light
Empty your dryer much more easily – and never misplace another sock! The internal Drum Light brightly illuminates your laundry and the rest of the drum. So you can quickly check the contents and make sure that you get everything out. Now you won't overlook even the smallest item in the dark.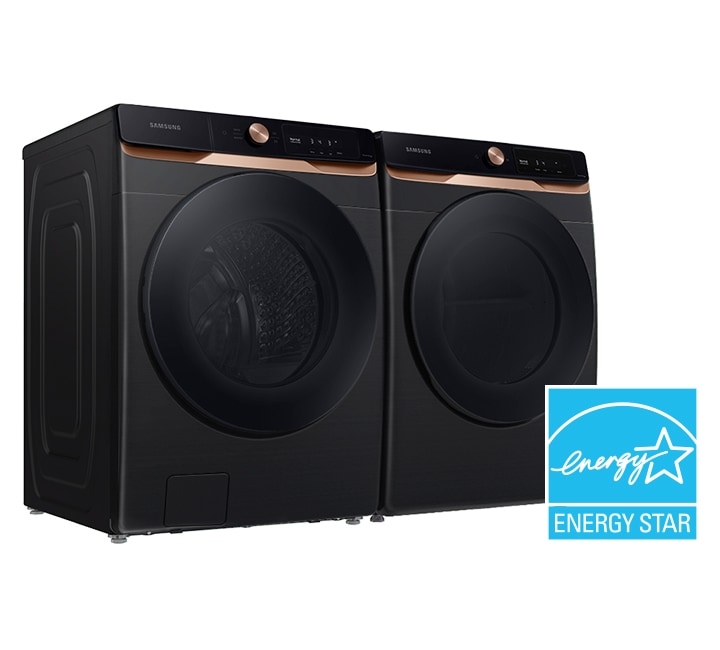 ENERGY STAR® Certified
Spend less on drying clothes and help to protect the planet. The clothes dryer is ENERGY STAR® certified. So you can save money by using less energy without sacrificing performance or functionality. This reduces the impact on the environment caused by the consumption of natural resources.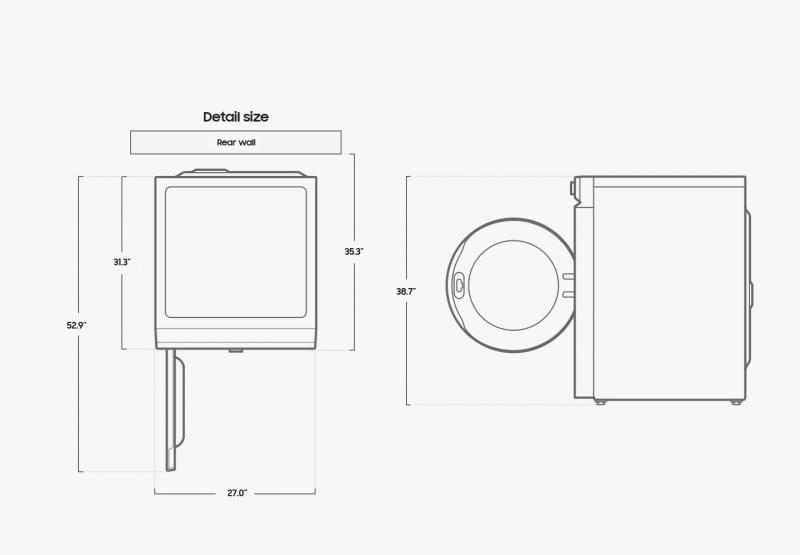 How to measure
Drying Capacity
Drying Capacity (cu.ft)
7.5
Design
Body colour
Brushed Black
Panel Display
Mono LCD + LED
Performance
Cycle time (min)
75
Energy Star Certification
Yes
DOE Energy Factor
3.93 lb/kWh
Feature
Interior Drum Light
Yes
Smart Control
Yes
Smart Care
No
Reversible Door
Yes
Child Lock
Yes
Drying Rack
No
Dual Heater
Yes
Filter Check Indicator
Yes
Mixed Load Bell / Damp Alert
Yes
Progress Indicator
Yes
Steam
Yes
Vent Exhaust (Electric/Gas)
4 ways
Vent Sensor
Yes
Wrinkle Prevent
Yes
Number of Drying Level
5 EA
Number of Temp. Level
5 EA
Number of Time Level
9 EA
Cycle
Number of Cycle
19
Number of Option
14
Cycle List
Refresh, Wrinkle Away, Steam Sanitize+, Super Speed, eco Normal, Normal, Heavy Duty, Towels, Perm Press, Activewear, Bedding, Delicates, Wool, Shirts, Denim(Jeans), Time Dry, Air Fluff, Small Load, Rack Dry
Option List
Damp Alert, Wrinkle Prevent, AntiStatic, My Cycle, Smart Contol, Eco Dry, Drum Light, Child Lock, Alarm, AI Pattern, WiFi, Language, Vent Blockage Test, Factory Reset
Physical specifications & size
Net Dimension (WxHxD)
27.0 x 38.7 x 31.3 inch
Net Weight
126 lb
Gross Dimension (WxHxD)
29.4 x 42.9 x 33.5 inch
Gross Weight
132 lb
Voltage/Frequency
120 V / 240 V / 60 Hz
Drum Material
Powder Coat (Gray)