Yamaha Stereo Receiver With Aluminium-extruded Front Panel - RS300B

Yamaha Stereo Receiver With Aluminium-extruded Front Panel - RS300B
RS300B
$499.95
Literature
Overview
55W x 2 (max), 50W x 2 (RMS) high power output
ART base chassis to minimise noise and vibration
Pure Direct for short and direct signal path
Aluminium-extruded front panel
Continuous Variable Loudness Control
Subwoofer out
Speaker A, B or A+B selection
40-station FM/AM preset tuning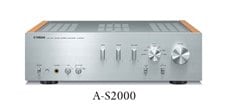 The Look and Texture of Quality
Offers the look and feel of the top-class A-S2000, with elegant aluminium front panel and silky touch volume/selector knobs. You can feel Yamaha's commitment to quality when you touch the knobs.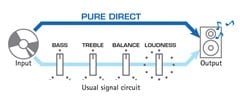 Pure Direct
Music signals travel the shortest possible route, bypassing the buffer amp and tone, loudness and balance controls to virtually eliminate any signal degradation for the purest sound quality.

Highest Quality Parts
The quality of each individual part, as well as how they work together, basically determines the sound quality of any component. Yamaha uses only very high quality parts, carefully selected and tested.

New Speaker Terminals
These high grade speaker terminals have silver plating for best connection and outstanding durability. The pitch between jacks is wider for easier insertion.

Continuously Variable Loudness Control
Our ears lose sensitivity to high and low frequencies at low volume levels. This control lets you turn down the volume while maintaining the optimum frequency response.

Subwoofer Out
Subwoofer Out lets you connect a subwoofer for stronger bass and better overall sound quality.

Power management (Auto power off)
Auto Power Off automatically turns off the power after a certain amount of time to save energy.

New Remote Controls
The R-S300 come supplied with a slim remote unit whose button layout is both easy to understand and use.
Specifications
Maximum Power (4 ohms, 1kHz, 0.7% THD, for Europe)
55 W + 55 W
Minimum RMS Output Power (8 ohms, 20 Hz-20 kHz)
50 W + 50 W (0.04% THD)
High Dynamic Power/Channel (8/6/4/2 ohms)
70/77/89/100 W
Total Harmonic Distortion (CD to Sp Out, 20 Hz-20 kHz)
0.015% (25 W/ 8ohms)
Frequency Response
10 Hz-100 kHz ±1 dB
Power Management (Auto Power Standby)
Yes (4/6/12 hours)
Signal-to-Noise Ratio (CD)
100 dB (Pure Direct On, 200 mV)
Audio In / Out
5 / 2
FM Signal-to-Noise Ratio (Mono/Stereo)
74 dB / 70 dB
Subwoofer Out
Yes
FM 50dB Quieting Sensitivity (IHF, 1 kHz, 100% Mod., Mono)
3 µV (20.8 dBf)
Pure Direct
Yes
Standby Power Consumption
0.5 W
Dimensions (W x H x D)
435 x 151 x 387 mm
Weight
8.8 kg